Alberta Auctions, Lindstrand Auctions Pre Harvest Machinery Consignment Auction - Begins August 29, 2020 - Ends September 5, 2020





Lindstrand Auctions Ltd.
Pre Harvest
Online - Timed

Machinery Consignment Auction,
Camrose, Alberta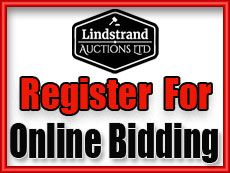 Bidding Begins : Saturday August 29th, 2020 - 9:00 am
Bidding Starts Closing : Saturday, September 20, 2020 - 4:00 pm
Selling for Banks, Finance Companies, Private Consignments & Farm Dispersals Selling

Farm Equipment, Skidsteers Forklifts & Industrial, Cars & Trucks,
Lawn/Garden & Recreation, Bins/Buildings & Hay
We will only be accepting a limited amount of palleted quality Misc/Shop Equipment.
Located at Lindstrand Auctions Ltd. Sale Site - Being 2 Miles North of Camrose on Hwy 833
47321 - Secondary Hwy 833
We will be Accepting items for this auction
TBA
Previewing/Inspection of Consignments Hours
(Covid 19 - Social Distancing Restrictions Apply)
TBA
Call: 780-672-8479 or 780-679-8101
No Food Services Available at our Site.
List your items today to take advantage of our complimentary
advertising

campaign!
If you are thinking of an auction, give us a call today!
Registration begins TBA!
We are moving our upcoming Machinery Consignment Auctions to a Online-Timed Auction format. We will be able to market your equipment in a professional online experience realizing top dollar for our consignors during COVID19.
To register for this auction, you will need to click the Online Bidding Button Above. Credit card will be required for online registration.
The Online - Timed Auction for August will open Saturday August 29th at 9:00am and lots will close through-out the day Saturday September 5th - 4pm. If there is more than one person bidding in the last few minutes, the timer will reset for 3 minutes and continue until all bidding is completed.
We ask that you abide by the guidelines of Alberta Health Services regarding COVID19, and remind you that there are
No Food Services at our Site for this Auction.
All items must be on-site by TBA to be included in this auction.
We are accepting a limited quantity of miscellaneous items (Please call Jody Lindstrand cell: 780-679-8101 for details).
Inspection & Viewing of Equipment starts on TBA. We will monitor the safety of our customers and staff during viewing.

Please call Jody Lindstrand at 780-679-8101 to list your consignments for this auction.

This is a partial listing! Register for Online Bidding above to view all current lots available for bidding!

TRACTORS
SEEDING & TILLAGE & SPRAYING

HAYING EQUIPMENT


HARVEST EQUIPMENT
SKIDSTEERS, FORKLIFTS & INDUSTRIAL
OTHER EQUIPMENT
BINS, BUILDINGS & LIVESTOCK EQUIPMENT

CARS, TRUCKS, TRAILERS, MOTORCYCLES
LAWN & GARDEN / RECREATIONAL & RV'S
MISCELLANEOUS & SHOP EQUIPMENT
---
Auctioneers Note:
Lindstrand Auctions Ltd. welcomes you to our Pre Harvest Online Timed Machinery Consignment Auction! This Auction Will Feature A Good Selection of Late Model Equipment, Trucks, Cars, RVS , Boats, Lawn & Garden Skid Steers, Construction & Industrial Equipment Along with a Large Selection of Shop Equipment, Much more to be listed, Call Today with your listing!
In order to bid on items you must click the Register Now button on our page. This takes you to our listings on Next Lot where you can register as a bidder. Credit Card is required to register.

All Bidders are required to provide One Government Issued Photo ID at time of payment such as:
The credit card used at online registration is also required to be produced at time of payment.
GST to be paid in addition to purchase price where applicable.
ALL PURCHASES MUST BE PAID IN FULL BY Monday September 7th 5:00pm NO EXCEPTIONS.
ALL EQUIPMENT MUST BE REMOVED FROM LINDSTRAND AUCTIONS LTD. SALE YARD BY FRIDAY September 11th - 5:00PM
TERMS OF PAYMENT ARE:
Major equipment purchases exceeding $25000 will require a letter of credit from your financial institution.
Cash, Debit, E-Transfer, Visa & MasterCard (with 3% service charge), Company Cheques over $10000 must accompany a bank letter from your financial institution 48hrs Prior to sale, NO Personal Cheques (unless known to staff) and NO Credit card Cheques. ONLINE BIDDING FEES: 3.5% to a maximum of $800 per item.
Our yard will be open for payment Sunday September 6th from 9:00am till 5:00pm & Monday September 7th 9:00am - 5:00pm ONLY!. All items must be removed by Friday September 11th 5:00pm. Loading Restrictions will apply due to COVID-19.

MAKE ALL FINANCIAL ARRANGEMENTS BEFORE REGISTRATION !
The description as to condition or otherwise, as set forth on each item, is merely a guide and is in no way a warranty or guarantee, actual or implied. Neither the owner, webmaster, nor the auctioneer are responsible for any errors in description or condition. All Items sell "AS-IS, WHERE-IS". ALL ANNOUNCEMENTS from the auctioneer take precedence over any & all written material.Owners and auctioneers shall not be responsible for loss or accidents on or off the property. Subject to additions and deletions. Lic# 31272